Traveling in Cars with Pets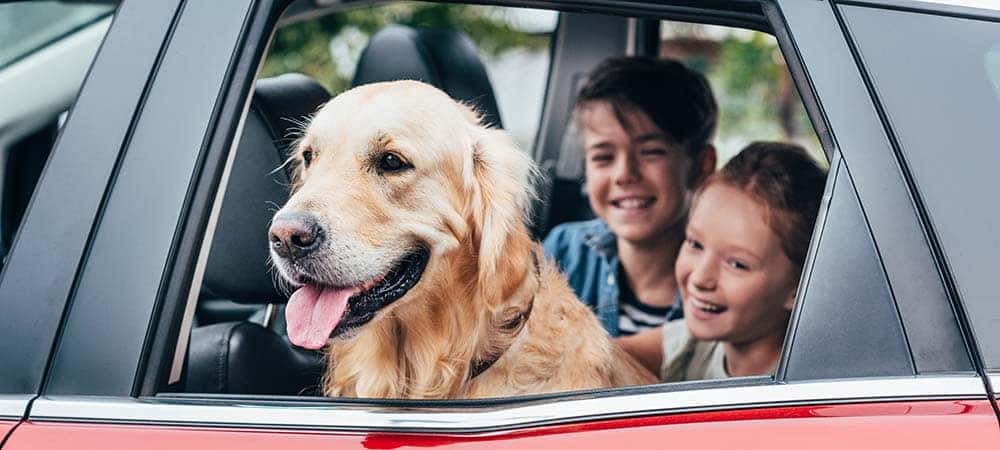 Hitting the road with your furry friend can be loads of fun, so long as you take the necessary precautions to protect your pet and your new car from harm along the way. Here, the experts at Tacoma DCJR offer a few tips to help protect you, and to make sure your next road trip ends on a high note. Learn more about how to travel with pets below.
Get a Car Crate for Your Dog or Cat
Pets can get excited during road trips – running back and forth, sticking their snouts out the windows. Cute as this can be, it can get dangerous. An excited pet in the cabin of your car can be a distraction, making it difficult to see and interfering with your ability to drive especially in challenging conditions. It's not a bad idea, then, to get your dog a car crate – to protect your dog and yourself.
Seat Covers and Floor Mats
Say you decide not to get your pet a car cate. Well, even so, your pet can leave his or her mark on your DCJR's upholstery. Seat covers will protect your interior from claw scratches, excessive pet hair, and the dirt your pet is bound to track in as well. It's not a bad idea to order seat covers that fit over the seats; floor mats aren't a bad option either.
Pet Gates
For shorter trips – or for multiple pets – a crate might not be practical. If you drive an SUV or hatchback, consider adding a gate to block off the rear cargo area. This will keep your pet from jumping into the passenger area of the vehicle, while still allowing them plenty of room to stretch and move around, a bonus for them if you're driving farther than Puyallup or Gig Harbor and they'll have to be still for long periods.
Health Considerations
Stressed pets can get very sick while traveling, so it's important that you make sure your pet is healthy before you leave. Play soothing music, talk to them while you drive, add a comfort object to their crate or cargo area, and plan for plenty of pit stops to allow them to relieve themselves and explore. Keeping them in the car from Federal Way to Puyallup could not only make them anxious, but it could also lead to a mess that will take the shine out of your vacation.
Make Sure They're Up-to-Date on Shots and Vaccinations
In the unlikely event that your pet gets over-excited, having their microchip information and tags up to date will ensure they come back to you. It's also a good idea to check to see that they are up to date on their shots, and not violating any regulations where you're going. Healthy pet requirements aren't likely to change between Tacoma and Spanaway, but if you travel north and cross the border, you'll need to be sure you're covered, and their immunizations are current.
Rely on Tacoma DCJR for Car Accessories
Taking a little time to ensure your pet is safe and that you have their meds, food, and plenty of water on hand will guarantee that your road trip together is one you remember for all the right reasons. To learn more about driving tips and tricks, and the many ways we can help you save, contact Tacoma DCJR and speak to a representative today.
---
Related Posts from Tacoma DCJR
It is finally here, the 2020 Jeep Gladiator can be built and priced to your specifications. You may contact us at any time to help you navigate your all-new Jeep Gladiator build process. Keep in mind, Tacoma Dodge Chrysler Jeep Ram is the #1 volume CJDR dealer in the state of Washington. We are taking…

If you are looking for a fun-filled event that is perfect for the whole family near Federal Way, why not explore what the Puyallup Spring Fair has to offer? The Puyallup Spring Fair has something for everyone, from carnival rides to live music and amazing animal acts. LeMay Car Museum Info Contact Us Puyallup Fair Dates…

Looking for a great bite to eat in Puyallup? You'll want to check out Tacoma Dodge Chrysler Jeep Ram's best restaurant picks! Take the drive from Federal Way or Tacoma to check out our favorite Puyallup restaurants! Top Tacoma Golf Courses Have Any Questions? Crockett's Public House A multiple award-winning restaurant featured on Diners, Drive-Ins and Dives with Guy…