Service
Dealer Info
Mon - Fri9:00 AM - 9:00 PM

Sat9:00 AM - 8:00 PM

Sun10:00 AM - 7:00 PM

Mon - Fri7:00 AM - 6:00 PM

Sat - Sun8:00 AM - 5:00 PM

Mon - Fri7:00 AM - 6:00 PM

Sat - Sun8:00 AM - 5:00 PM

---
Discover The Convenience Of EXPRESS LANE Service At Tacoma Dodge Chrysler Jeep Ram In Tacoma, WA
Here at Tacoma Dodge Chrysler Jeep Ram serving Puyallup, WA, we understand that you have a busy schedule with limited time to take proper care of your ride. This is why we are proud to offer EXPRESS LANE service where you don't even need an appointment. Stop by our state-of-the-art Service Center and take advantage of a variety of Express services. Whether you are looking to get a quick oil and filter change, tire rotation, and/or wiper blade replacement, our EXPRESS LANE is the way to go. When we change your vehicle's oil and filter, we aren't stopping with the bare minimum, we will also go through our comprehensive checklist that includes checking things like the condition of your air filter, tire ware, exterior lighting, wiper blades, and the level and quality of your coolant. We'll check and fill fluids as necessary and even test the battery along with inspecting things like steering, suspension, drive belts, hoses, and a whole lot more. This may be an express lane that doesn't take much time from your schedule but that doesn't mean we are going to take shortcuts. Take the drive from Federal Way, WA to see just how easy taking care of your vehicle is with help from our factory trained technicians and EXPRESS LANE service at Tacoma Dodge Chrysler Jeep Ram.
Available Services
(No Appointment Necessary)
Oil & Filter Changes
Multi-point Vehicle Checkup
Tire Rotation w/Brake Inspection
Air & Cabin Air Filter Replacement
Wiper Blade Replacement
Headlamp & Light Bulb Replacement
Battery Test
Every EXPRESS LANE Oil & Filter Change includes:
Replace Oil
Replace Oil Filter
Lube Chassis (if applicable)
Check Air Filter
Check Tire Wear
Check Brake/Reverse Lampsv
Check Headlamps
Check Taillamps
Check Turn Signals
Check Wiper Blades
Check & Fill Coolant
Test Battery
Check & Fill Brake Fluid
Check & Fill Differential Fluid (if applicable)
Check & Fill Power Steering Fluid
Check & Adjust Tire Pressure
Check & Fill Transmission Fluid (if applicable)
Check & Fill Windshield Fluid
Check Drive Belts & Hoses
Check Steering & Suspension
---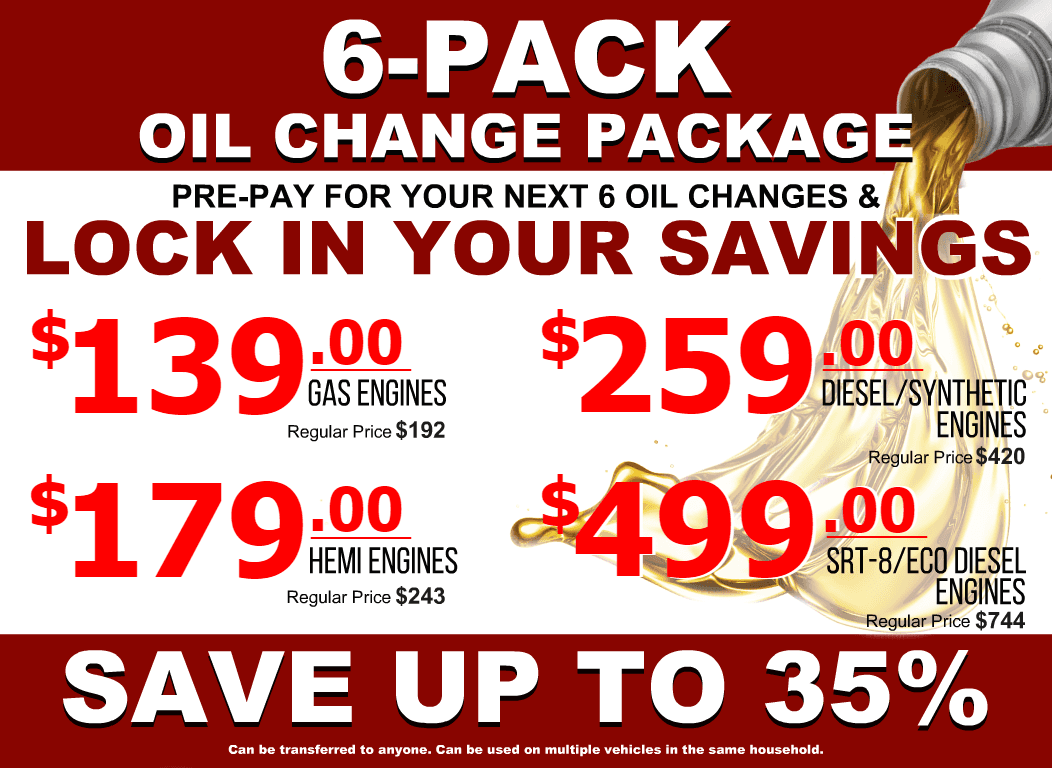 Save Big When You Take Advantage Of This Special Oil Change 6-Pack Special Offer At Tacoma Dodge Chrysler Jeep Ram
Getting the most from your engine means keeping up with regular oil changes and we're here to help at Tacoma Dodge Chrysler Jeep Ram with this generous special on an oil change 6-pack. Simply stop by our Service Department serving Puyallup, WA and prepay for your next 6 oil changes. For most gas engines, this 6-pack will only cost $139 (compared to nearly $200 if you get six oil changes individually). Those who enjoy the legendary HEMI engine will have the next 6 oil changes taken care of for only $179 (versus $234) and if you rely on a diesel engine to get around, your next 6 oil changes will only cost $259 (instead of $420 when purchased 6 oil changes individually). For just $499 (versus the regular price of $744) we will take care of your SRT-8 or Eco Diesel Engines. This generous 6-pack can be used for multiple vehicles in the same household and it also makes for a great gift. This is just one more example of how our updated service specials help you save at Tacoma Dodge Chrysler Jeep Ram. This deal will slip away soon so stop by today and discover the difference of letting us take care of you and your ride in the Tacoma, WA area.
---
Discover Every Aspect About Your MOPAR Vehicle With Our Video Library From Tacoma Dodge Chrysler Jeep Ram
Today's MOPAR vehicles are among the most technologically advanced automobiles ever developed which can be a bit confusing without some help. Well we want every one of our customers to realize the full potential of their MOPAR vehicle so we have come up with this video library to remind and educate everyone of the full potential of their vehicle. Whether you have a new phone and need to connect it to your vehicle's Bluetooth or you are curious what that funny looking light on your gauge cluster means, browse through these videos and find step-by-step information. You will find detailed explanations of the wide range of technology and capabilities that come with your MOPAR vehicle. This is just one more way we go the distance to ensure the best possible experience for our customers at Tacoma Dodge Chrysler Jeep Ram where we proudly serve the greater Tacoma, WA area.
---
Find The Latest News, Test Drives And Reviews From Tacoma Dodge Chrysler Jeep Ram
We go the extra mile to ensure that you have all of the information you need to make the right decision for your automotive needs. Whether you are looking for the latest information on current and upcoming models or are curious to see a comprehensive review of today's models, we have you covered.
Take a look at what VJ has to say about vehicles for the Tacoma, WA area at his site. VJ is a car nut exploring, testing, and checking vehicles for benefits and shortcomings.
It is important to us that our customers are well informed and if you have any questions, please give us a call or schedule an appointment to discuss them in person at Tacoma Dodge Chrysler Jeep Ram.